fortify fashion
With a president making visible and intensifying the violence that the United States was built on and fueled by, war is moving towards the inevitable. Minoritarian peoples from various lifeworlds have already started the process of protecting and defending their communities against this heightened violence, and it's time for communities that have never before needed to be concerned with protection and defense to think about how they will contribute to this fight.

How can we learn and practice survival skills for this moment through the way we clothe ourselves? How can the clothing we wear not only physically defend our bodies but also equip us with extra tools to better survive and fight against an authoritarian state?


In a war, fashion becomes fortification. Clothing is armor, barrier, shield, and shelter. We need to break out of the mindset that fashion is frivolous and that survival gear must look utilitarian. Aesthetic concerns and functionality can be woven together into one garment, and that garment can double as a survival tool.

Each of the looks in the Fortify Fashion mini-collection is both inspired by and a response to a certain survival skill.



Navigation:
This look invokes traditional star-based navigation as well as the lit-up circuit boards that power both our current world and our tools for navigating through it. It's the only piece in the collection that leans substantially more towards art than function, to serve as a reminder that art can be an important means of navigating survival in a fundamentally unjust world.
First Aid:
One of the most crucial survival skills, knowledge of first aid (and all modes of healing) can be make-or-break in any war-like scenario. This piece is a disassembled first aid kid, in which each first aid element is attached loosely to allow it to be quickly ripped off when it needs to be used. Wearing supplies saves space in bags, freeing up capacity for carrying other equipment and/or weapons. Further, the jumpsuit base can be "replenished" with supplies once the initial ones run out.
Sleep
In an extreme state of war, when "homes" may be destroyed or unreachable, we don't know when or where we may need to settle for the night. Sleep is essential for being able to fight, and with an outfit that doubles as bed, blanket, and pillow, everything you need to survive the night is worn on your body.
Resourcefulness: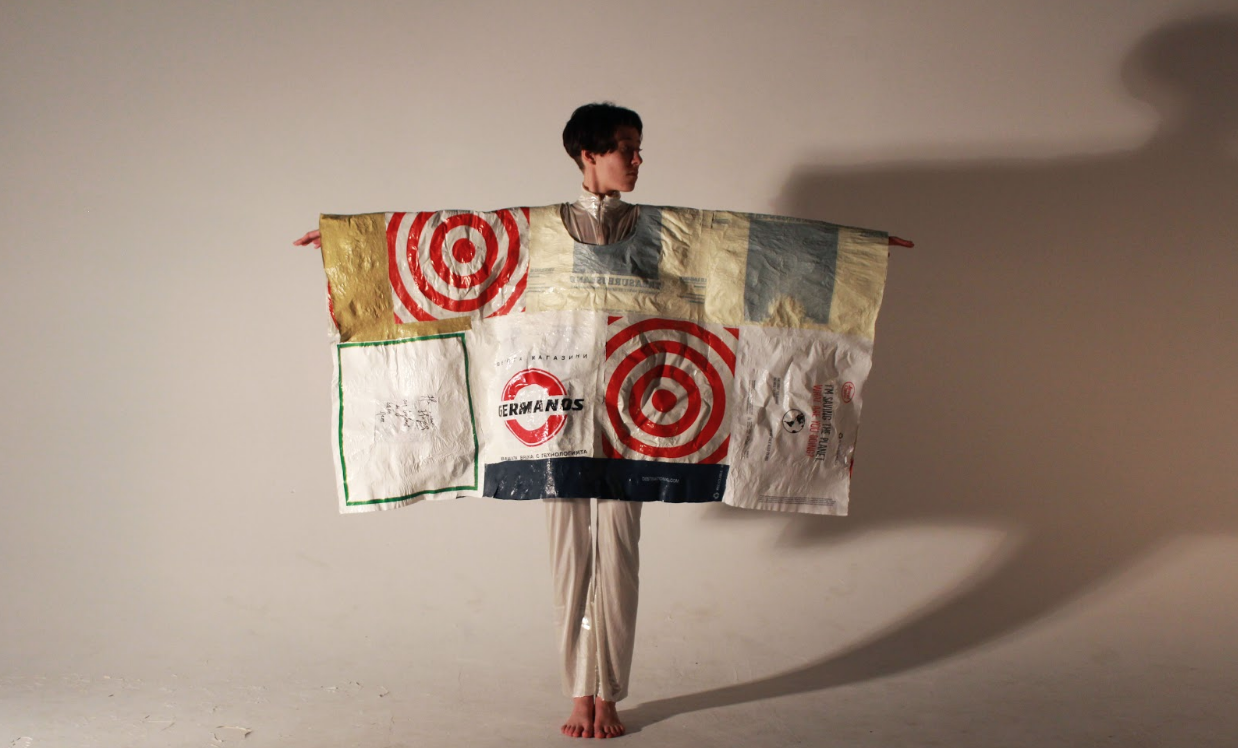 Fabric may no longer be easily accessible. If this becomes the case, we need to be able to use alternative materials to clothe ourselves. Plastic bags are abundant, waterproof, and exponentially better worn on a body than clogging a landfill.
Fuse bags together with an iron
and you can create anything from rain ponchos to dresses to tents.
garments modeled by me and Xiili Sarkela; photography by me, Xiili Sarkela, and Hoda Katebi